Local A roads needs an immediate injection of £200m to tackle high risk sections, according to a report by the Road Safety Foundation charity in partnership with Ageas UK.
The calls follow a Government allocation of £175m to a Safer Roads Fund to tackle the 50 most dangerous local A roads in England. However the Foundation has argued that another £200m is needed to tackle 'a further 6,111km on more than 550 sections of unacceptably high risk roads'.
There are also 36 persistently higher risk roads that are not being addressed by the Safer Roads Fund, with a total length of 472km and an associated economic loss of £195m over three years.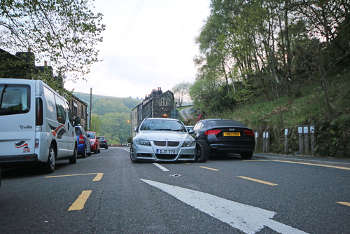 The Department for Transport said it was releasing £25m up front on a formula basis and inviting proposals from eligible local highway authorities for the rest of the cash.
These roads have been inspected, remedial proposals prepared and the first findings will be reported in 2018, the Road Safety Foundation said.
Foundation chairman Lord Whitty said: 'Last year's innovative allocation of funds to tackle a portfolio of the 50 most dangerous roads in England enabled the introduction of a new systematic and proactive approach to cutting the social and economic cost of road crashes.
'It has been warmly welcomed by councils and authorities and ushers in a new era of best practice. Known high risks are identified through research. Roads are inspected along their length so that risks can be systematically identified and then removed, often before people are killed or hurt.'
The Road Safety Foundation/Ageas partnership has also launched an interactive Road Crash Index atwww.roadcrashindex.org, which shows the level of road safety performance in each county between 2010-12 and 2013-15.
Counties are ranked based on improvement, the cost of injury from road crashes and the cost per head of population, together with risk maps for each county area and any improved or persistently higher risk roads.
The tool provides an opportunity to tweet or email relevant MPs to ask them to support road safety investment.
A new Road Safety Foundation/Ageas UK report Cutting the Cost of Dangerous Roads identifies that on the EuroRAP network of Motorways and A roads – the 10% of the road network that contains half of all road deaths:
Great Britain's highest risk road is the A537 between Macclesfield and Buxton, known as the Cat and Fiddle, in the Peak District
Single carriageway 'A' roads are 7 times the risk of motorways and nearly 3 times the risk of dual carriageway 'A' roads
The largest single cause of death on the network was run-off road crashes (30%)
The largest single cause of serious injury on the network was crashes at junctions (33%)
High risk single carriageway roads are 67 times more risky than low risk single carriageways.
Top 10 Most Improved Roads
Only 1% of road sections on the Risk Mapped network have shown a statistically significant reduction in fatal and serious crashes
Between 2010-12 and 2013-15, fatal and serious crashes on the top 10 'most improved roads' roads fell by 74% from 145 to 37 – giving an annual economic saving of £17m in 2014 values, or £149,000 per km
This year's most improved road stretch is the A4151. Gloucestershire County Council attributes the reduction in crashes to a new 20mph zone in Cinderford, resurfacing the road, revising road markings, marker posts and signing in 2012; plus a new pedestrian crossing at Littledean in 2015 at the end of the second data period. This work cost an estimated £201,300 to complete.
Persistently Higher Risk Roads
A537 From Macclesfield to Buxton
A254 From junction with A28 in Margate to junction with A255 near Ramsgate
A259 From junction with A2036 at Glyne Gap to just outside Ore
A588 From Lancaster to junction with A585 outside Poulton-le-Fylde
A6 From junction with A589 in Lancaster to M6 junction 33
A32 From M27 J10 to Delme Roundabout; Quay St roundabout to the Gosport ferry terminal
A3055 From junction with A3054 in Freshwater to junction with A3054 in Ryde
A21 From junction with A2100 to junction with A259 at Hastings
A18 From junction with A46 near Laceby to junction with A16 near Ludborough
A4 From junction with Huntercombe Spur to junction 5 of M4
Highest risk road in the UK
The A537 between Macclesfield and Buxton, known as the Cat and Fiddle, in the Peak District has been listed in the persistently higher risk list six times in the last 10 years. At its peak in around 2006 to 2009 there were around 10 fatal and serious crashes on average every year.
Two-thirds of all fatal and serious crashes involved a motorcyclist, which reflects their high usage of the route.
Improvements reported to date by the Cheshire East Council and Cheshire Road Safety Group include average speed cameras and installing "motorcycle friendly" barriers and average speed cameras.
Cheshire East Council has submitted a proposal to the Safer Roads Fund that includes upgrading the average speed camera system, carriageway surface treatment work, replacement and improvement of road markings and vehicle restraint systems, and replacement of existing advanced poor weather warning signs.
English strategic road network (SRN) managed by Highways England:
Between 2010-12 and 2013-15 risk reduced by 3.5%
90% of motorway travel is now on low risk sections
23% of dual carriageway travel is on low risk sections
Only 1% of travel on single carriageways is on low risk sections, 8% is on medium-high risk sections.
The A14 between Junction 55 and Junction 58 to the South of Ipswich is the most improved road section on the English SRN
The A21 between Hurst Green and Hastings is the highest risk road on the English SRN.
Local authority findings:
19% of local authority roads by length are high risk or medium-high risk
These high risk roads carry 13% of local authority traffic
All dual carriageways in Scotland and Wales are low or medium-low risk, whereas some dual carriageways in England remain medium or medium-high risk.
Road safety stats:
The number of people killed on Britain's roads increased by 4% from 1,730 in 2015 to 1,792 in 2016, the highest annual total since 2011
On average, 71 people are killed or seriously injured on Britain's roads every day
51% of fatal casualties occurred on non-built-up roads – just 10% of the total road network
5% of fatal casualties occurred on motorways
Road traffic crashes cost the British economy £36 bn.