Highways England has announced its preferred route for a planned £50m scheme to improve the roundabout at Junction 19 of the M6 near Knutsford, which it said was backed by three quarters of people responding to its consultation.
The 'Option A' scheme involves a new bridge across the middle of the roundabout where the motorway meets the A556. This provides a double cut through linking those leaving the M6 northbound to the northbound A556 and those leaving the M6 southbound to the A556 southbound. All other links would use the existing roundabout.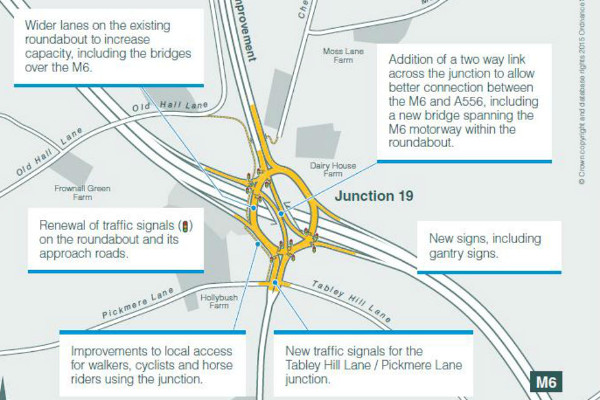 The Government-owned company said the option received the backing of 75 of the 98 drivers, Cheshire East and Tabley councils and other local people responding to last summer's consultation.
It said: 'Option A ensures that this key junction will be able to manage traffic flows from both the new A556 and the M6 Smart Motorways projects once complete.'
Project manager Irene Ofei said: 'The scheme we are taking forward is the one which was the overwhelming choice of people taking part in last year's consultation. We feel this option will deliver most and lasting benefits in terms of improving journey reliability and safety and increasing capacity.
'The new link roads across the middle of the roundabout will take a lot of traffic away from other parts of the roundabout, reducing congestion for everyone.'
Highways England said it will do further work to refining the scheme on one of the region's busiest junctions, with construction work possibly starting in March 2019 and by March 2020 at the latest.
Improvements under the scheme also include:
wider lanes on the existing roundabout to increase capacity, including the bridges over the M6
new traffic lights on the roundabout and its approach roads
new traffic lights for the Tabley Hill Lane/Pickmere Lane junction
improvements to local access for walkers, cyclists and horse riders using the junction