More than half of the British public supports charging drivers of more polluting vehicles to enter parts of towns and cities, according to a new survey.
The polling, commissioned by campaign group ClientEarth and carried out YouGov, also showed that seven out of 10 people (71%) think the UK car industry should help fund efforts to clean up the country's illegal levels of air pollution.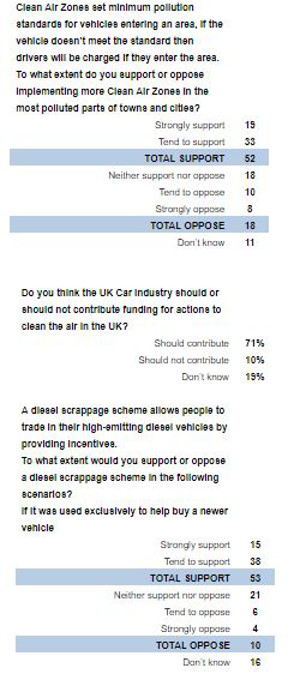 It found that 52% of respondents support more charging Clean Air Zones, although it did not specify whether these would cover private cars. Many areas of Britain currently breach EU limits on nitrogen dioxide, with this pollution coming mainly from diesel vehicles.
ClientEarth spokesperson Simon Alcock said: 'People are more aware than ever of the harm air pollution is causing to them and their children and they want to see action.
'The Government's own evidence shows that a national network of charging clean air zones would be the most effective way to bring down illegal and toxic levels of air pollution.'
The campaign group is taking the Government back to court later this month, its third legal action over the issue. It will argue that the Government's latest plans, released in July, should be supplemented as they do not meet the legal requirement to bring air pollution within legal limits as soon as possible.
The approach of ministers has been criticised for leaving it up to local authorities to bring in potentially controversial measures such as charging CAZs.
Last week Leeds City Council launched a consultation on a charging CAZ that will not cover private cars.
ClientEarth also pointed out that ministers had mooted a diesel scrappage scheme in their initial air quality plan but now appear reluctant to take it forward.
Mr Alcock added: 'A scrappage scheme is one of the solutions to this problem. People will need help to move to cleaner forms of transport, whether that's hybrid or electric vehicles, public transport or making more journeys by walking or cycling.'